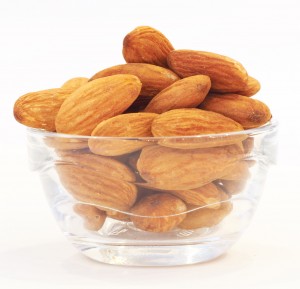 The Paleo Diet discourages the use of dairy including milk, butter, cream, yogurt, ice cream and cheese. Many people really get sidelined when trying to eliminate dairy and often fail to kick it out of their daily regimen even though all facts point to why dairy isn't good for you.
Fresh raw almond milk is a delicious and healthy alternative to cow's milk.  Its super easy to make and you get the benefit of fresh almond milk plus a nutty almond meal you can later use in smoothies, salads and vegetable toppings.
What You Will Need
1 pound (1/2 kilo) fresh raw almonds, preferably organic
A blender or food processor
A large bowl to strain into
A mesh bag or cheesecloth for first straining
A reusable fine wire mesh coffee cone or fine muslin bag for second straining
A half gallon or 2 liter refrigerator jug to keep it in
A few pinches of salt (optional)
Sweetener of your choice like honey, to taste (optional)
Steps to Make Fresh Almond Milk
Step 1: Place 1 cup of almonds in a jar or container large enough to comfortably hold the almonds and 4 cups of filtered water
Step 2: Add 4 cups of water to the container. Place it in the refrigerator and let it soak overnight.
Step 3: Put the water and almonds mixture in a blender. Blend until smooth.
Step 4: Strain the blended almonds through cheesecloth.
Step 5: Drink the almond milk as is or you could put over cereal or use it in a Paleo Diet Smoothie. Use the beverage as you would regular milk.
Tips and Suggestions
You can add a little vanilla extract and honey to the mixture while it blends.
Blend frozen fruit with the almonds and you can make fruit-flavored almond milk.
The almond milk will last in the refrigerator 3 to 5 days.
Save the blended almonds for other uses, like dressings or topping for steamed vegetables
Give this recipe a try and leave a comment below. We'd love to hear your other ideas and suggestions.